Overview
How it works
ScanSnap Cloud*1, 2, 3 is productivity at the push of a button. Combining the ease-of-use of ScanSnap scanners with ScanSnap Cloud's ability to integrate seamlessly with a variety of popular cloud services, this service provides a convenient and comprehensive solution for ScanSnap customers. You can directly access popular cloud services*4 such as Box, Dropbox, Evernote, Google Drive, Google Photo, OneDrive etc.
ScanSnap Cloud delivers scanned data directly from your ScanSnap iX1500, iX500 or iX100 to your favorite cloud services without a computer or mobile device. The software automatically classifies your file type by documents, receipts, business cards and photos, and sends it to the appropriate cloud based on pre-set profiles.
*1 For countries where this service is available, please visit here.
*2 ScanSnap Cloud is available on ScanSnap Home for PC and Mac, and ScanSnap Cloud App is available for Android and iOS.
*3 To use ScanSnap Cloud, you need to activate your license for ScanSnap Home with your ScanSnap account. For instructions to create an account and active licenses, please visit here.
*4 Available services vary by region.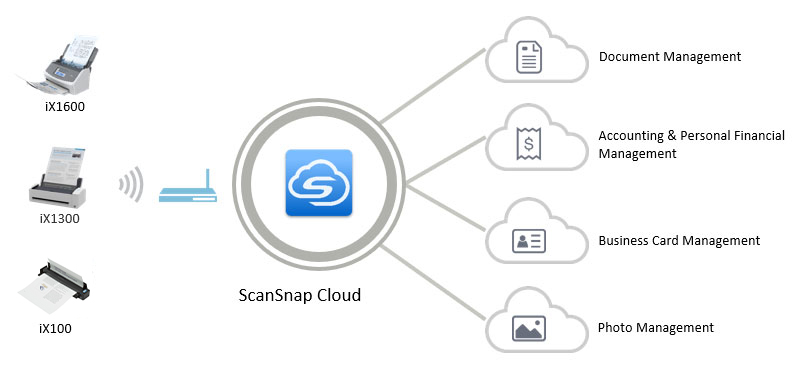 Features
Direct connection to the cloud
A ScanSnap scanner and Wi-Fi environment are all you need. Direct connection to cloud services can be made with the ScanSnap scanner executing Wi-Fi and image processing operations using our custom developed "GI processor"*.
* ScanSnap Cloud is based on the Wi-Fi environment services available in the office or at home. Public wireless LAN services are not supported. You can use the device outside by tethering it to a mobile router or smart device.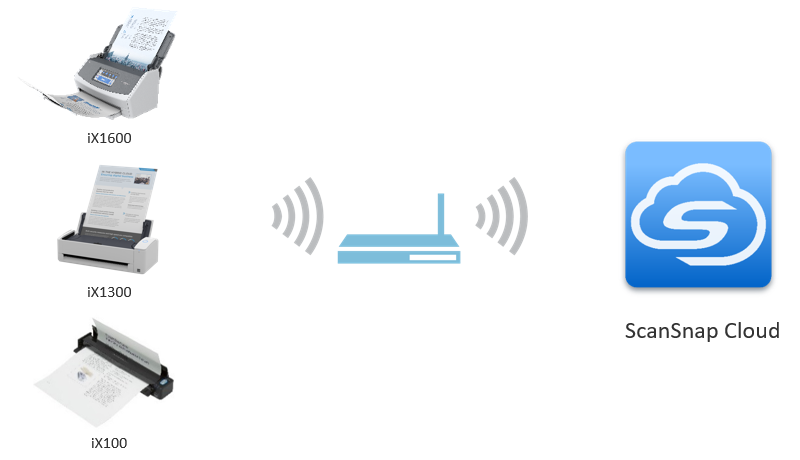 Transform scanning workflow
With one touch of the Scan button, ScanSnap Cloud automatically classifies scanned data into four categories: documents, receipts, business cards, and photos. You can simply set profiles for each category by selecting the cloud service of your choice in ScanSnap Cloud, so that it automatically sorts and delivers each piece to its predetermined cloud service.
This enables convenient, device-less scanning by eliminating the need for document sorting and selection of output destination.
You can select your favorite cloud service for each category.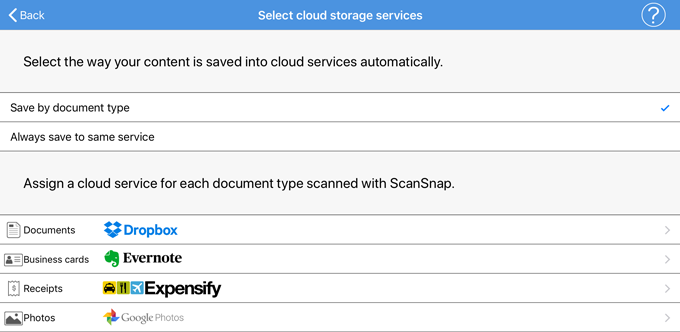 You can also set scan details such as format, size, color and much more.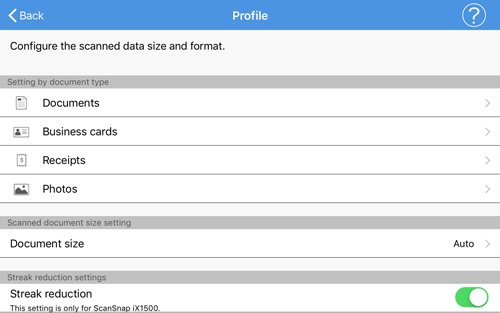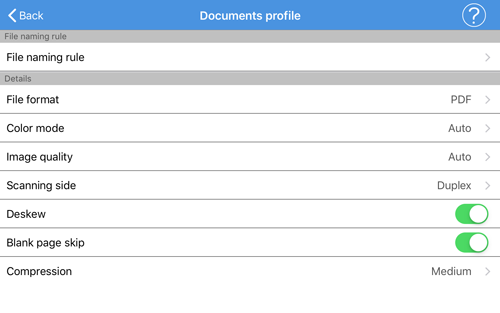 Automatic and intelligent functions
Simplify your workflow by eliminating the need to adjust scan settings or provide file names thanks to various innovative features. Since ScanSnap Cloud is highly secured, there is no need to worry about security for your data.
Image optimization
Before delivering scanned documents to selected cloud services, ScanSnap Cloud optimizes scanned images with its advanced functions: Automatic Color Detection, Automatic Size Detection, Automatic Rotation and Blank Page Removal.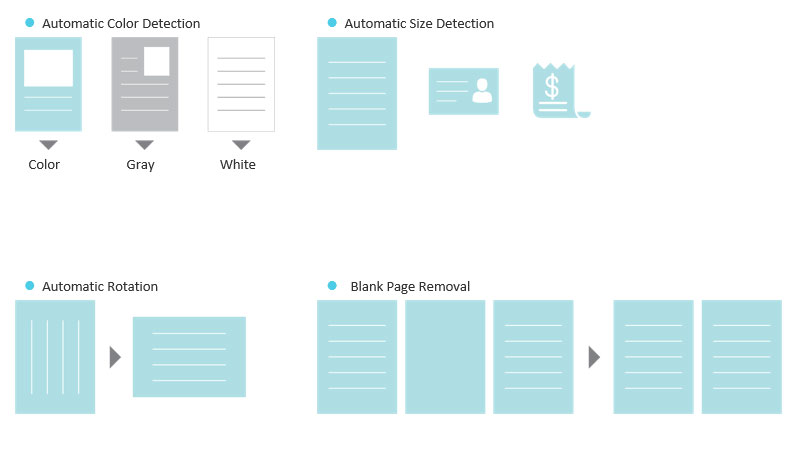 Name assist
Files are automatically named using extracted keywords and dates from scanned documents, receipts, and business cards.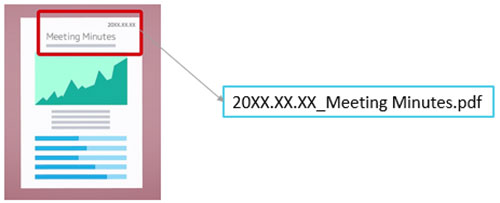 Searchable PDF Creation
Searchable PDF files can be produced on ScanSnap Cloud*. Perform keyword searches on your documents using all of your favorite document management cloud services.
* Searchable PDF generation is limited to 500 pages per month. All pages after the 500th page will be generated as normal PDFs. There are no limitations on the number of normal PDFs that can be generated. If number of scanned pages exceed 500 while scanning multiples pages in the same document file, these pages will be generated as a single searchable PDF.
Security
ScanSnap Cloud utilizes Microsoft Azure™, known throughout the world to provide protection for cloud data with its robust security platform.
Capture and access data anywhere anytime
The smart device capture functionality* allows you to scan important documents on-the-go, or even when your ScanSnap scanner is out of reach. This function maximizes the convenience and flexibility that one-button scanning delivers.
Because data can be accessed from cloud services, you can easily check and edit data on your smart device such as on the tablet and smartphone, allowing you to access important information wherever you are, whenever you need.
* Available only for those who have ScanSnap scanners.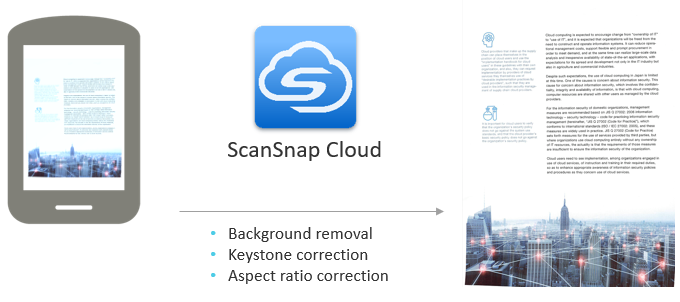 Specifications
Computer
Please refer to the "System Requirements" for each scanner model.
Mobile Device
Supported Models
ScanSnap iX1500 / iX500 iX100
Hardware
iOS
iPad4 or later
iPhone 5 or later
iPod touch 6th or later
Android
CPU
ARM processor (Recommended: 2.7 GHz quad-core or higher)
Memory
512MB or bigger (Recommended: 3GB or more)
OS
iOS
iOS10.3 or later
Android
Android 4.4 or later
Number of Available Device
Maximum 5 devices per user account
Partner Cloud Services
Documents
Receipts
Photos
Videos
For business and home use
For document management
For accounting
For finance
For business card management
For photo management
Download and Updates
Windows & Mac
ScanSnap Cloud is available on ScanSnap Home.
Android & iOS
ScanSnap Cloud App is available.