ScanSnap Connect Application
Overview
ScanSnap Connect Application is a mobile scanning tool to support your fast-paced life. Providing the option to scan to your iOS or Android mobile device, it is a reliable and efficient way to go paperless. Whether you are traveling, at home or in the office, you can organize PDF and JPEG images scanned with ScanSnap on any device. Access your scanned files on the go for ultimate flexibility.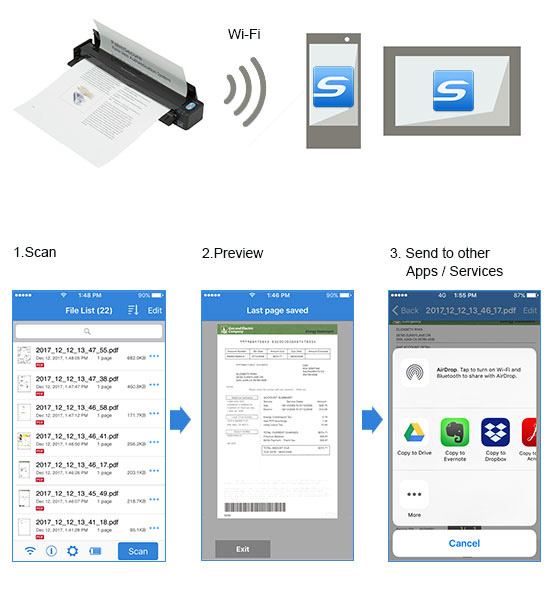 Features
Improve mobility for better productivity
Without a desktop computer, the ScanSnap Connect Application allows your smartphone or tablet device to operate the personal document scanner ScanSnap and handle the scanned images.
Scan with any device
Scan from any smart device via Wi-Fi using Access Point Connect mode at home and at work (when using ScanSnap iX500/iX100).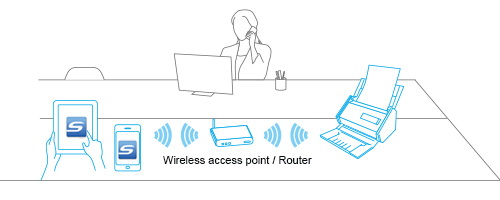 Scan whenever and wherever
Connect to your ScanSnap iX100 using Direct Connect mode even in places without Wi-Fi (When using ScanSnap iX100).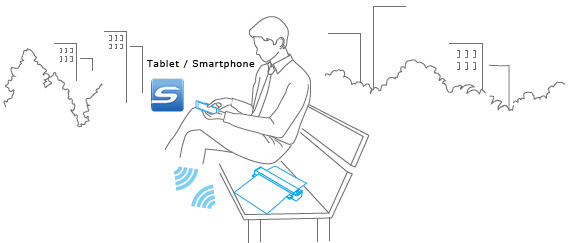 ScanSnap Sync
Synchronize scanned documents on your mobile phone and data on your computer with the ScanSnap Sync function offering seamless linkage between ScanSnap Organizer and ScanSnap Connect Application. Manage your information anytime, anywhere. Editing scanned documents from mobile devices is now a breeze with the functions of ScanSnap Organizer such as the OCR, paper rotation function, and searchable PDF conversion function.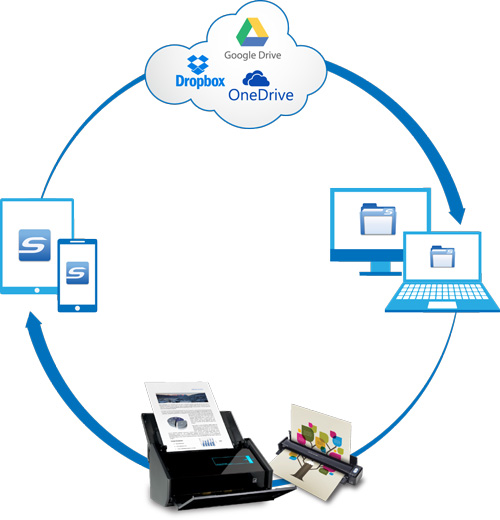 *ScanSnap Sync utilizes third party cloud services, Google Drive, OneDrive and Dropbox, to synchronize data between ScanSnap Connect Application and ScanSnap Organizer. Initial account registration for the cloud service is required.
Specifications
System Requirements for iOS
Supported device
iPad 4 or later
iPhone 5 or later
iPod touch 6th or later
Operating system
iOS 10.0 or later
Other requirements
Wi-Fi environment
System Requirements for Android™ / Kindle Fire
Supported device
with Android 4.4 or later installed
Operating system
Android 4.4 or later
CPU
ARM processor
(ARM dual core 1.5GHz or higher recommended)*
Memory capacity
512 MB or more
(1 GB or more recommended)*
Other requirements
Wi-Fi environment
*The scanning speed may drop if recommended system requirements are not met. Software may not work, if operating system requirements are not met.
Please refer to the ScanSnap Organizer Specifications page for ScanSnap Sync System Requirements.
Functions available in ScanSnap Home and ScanSnap Connect Application
Functions
ScanSnap Home
(PC)
ScanSnap Connect Application
(Mobile)
Automatic color detection
Yes
Yes (1)
Auto resolution mode
Yes
Yes
Blank page removal
Yes
Yes
Automatic size detection
Yes
Yes
De-skew
Yes (2)
Yes
Automatic rotation
Yes
No
Bleed-through reduction
Yes
Yes
Convert to searchable PDF
Yes
No
Folded A3 stitching
Yes
No
Auto format recognition
Yes
No
Auto name
Yes
No
Long paper scanning
Yes
Yes (3)
Multi-feed detection (4)
Yes
Yes (5)
Streak reduction
Yes
No
Save to preset folder
Yes
No
Send via email
Yes
No
Print
Yes
No
Covert to Word/Excel/PowerPoint®
Yes
No
Document/receipt/business card/photo management
Yes
No
ScanSnap Cloud (6)
Yes
No
Available only with color and grayscale.

Also capable of recognizing skewed text.

Available only with the ScanSnap iX1500. Capable of scanning up to 863 mm in duplex and 1,726 mm in simplex.

Available with the ScanSnap iX1500 and iX500.

Overlap detection only.

Availability of ScanSnap Cloud may vary depending on region.
Downloads
ScanSnap Connect Application (iOS/Android™) is available as a free download from the App Store, the Google Play or the Amazon Appstore in your region.
Scanner Direct : 02)462-2614