PaperStream IP
Overview
Automatically convert any documents into exceptionally clear image data which boosts work efficiency and productivity
PaperStream IP enhances standard TWAIN and ISIS applications by integrating cutting edge image processing technologies, without the need to change or modify any software.
Compatible with all standard ISIS and TWAIN applications
Powerful image processing
Image cleaning up
Blank page deletion
Auto color detection
Auto rotation
Auto cropping and deskew
Visual profile setting
Stress-free operation and ease of use
Features
Automatically improve image quality with powerful image processing features
PaperStream IP provides advanced image processing functions, such as deletion of blank pages, auto color detection, auto rotation, etc. The scanner driver automatically improves image quality and optimizes scanned images for OCR with its intuitive interface.
Image clean-up
The driver cleans up complex documents with no profile adjustments. This reduces rescans and is effective for use upon installation.
In addition, color documents are automatically cleaned up for improved reproduction and reduced file sizes.
Assisted scanning with intuitive interface
Users visually choose the best image for image replacement or profile setting without having to learn and manipulate advanced driver settings.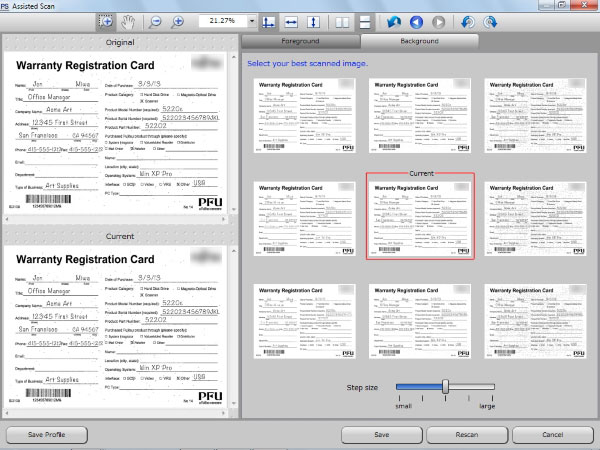 Stress-free operation and ease of use
Engineered by experienced experts, the PaperStream IP saves both time and money by reducing the number of rescans and time taken to setup a profile to just seconds.
Supports TWAIN and ISIS Applications
The PaperStream IP is compatible with all standard ISIS and TWAIN applications. Just select the PaperStream IP source to scan.
Advanced software for work efficiency
The PaperStream IP profiles and updates can be deployed to the scanner fleet.
Monitor scanner operation with Scanner Central Admin
Scanner Central Admin* specializes in centralized management of multiple scanners, including batch updates of scanner settings and firmware, as well as monitoring of errors and consumables status. The software is also capable of managing up to 1,000 scanners per server.
*To use Scanner Central Admin on Windows, you need to purchase a CAL (Client Access License). For details about Client Access License, please contact Microsoft.
Specifications
Product Name
PaperStream IP
Supported scanners
Workgroup
fi-7300NX / fi-800R / fi-7160 / fi-7260 / fi-7140 / fi-7240 / fi-65F / fi-7030 / fi-6110 / SP-1425 / SP-1130 / SP-1125 / SP-1120 / SP-1130N / SP-1125N / SP-1120N
Departmental
fi-7180 / fi-7280 / fi-7480 / fi-7460
Production
fi-7900 / fi-7800 / fi-7700 / fi-7700S / fi-7600
Discontinued
fi-6140Z / fi-6240Z / fi-6130Z / fi-6230Z / fi-6110 / fi-5530C2 / fi-5950 / fi-6800 / fi-6400 / fi-6770 / fi-6750S / fi-6670
Supported Operating System
Windows® 10, Windows® 8.1, Windows® 7, Windows Server® 2019, Windows Server® 2016, Windows Server® 2012, Windows Server® 2012 R2, Windows Server® 2008 (1), Windows Server® 2008 R2
Hardware
Requirements
CPU (2)
Intel® Core 2 Duo E6550 2.33 GHz or higher (Recommended: Intel® Core™ i5 2.5GHz or higher, except for mobile)
Memory Capacity
2 GB or more (Recommended: 4 GB or more)
Display Resolution
1024 x 768 Pixels or more
Disk Capacity
10 GB or more (3)
Software
.NET Framework 4.5 (excluding Windows® XP)
.NET Framework 4 + the latest Windows Update (Windows® XP)
Requires PaperStream IP 2.2.0 or earlier.

Scanning speeds may drop if recommended CPU, memory capacity and USB 1.1 requirements are not met.

Enough disk capacity is necessary for the saved file when scanning.
Videos
Introduction
Fujitsu Australia acknowledges all Aboriginal and Torres Strait Islander Traditional Custodians of Country and recognises their continuing connection to land, sea, culture, and community. We pay our respects to Elders past and present.