Overview
How it works
ScanSnap Home is a software specially designed for ScanSnap scanners, assisting you to easily manage, edit, and utilize various types of scanned data. Scanned data is saved as JPEG and PDF (Image PDF and Searchable PDF). Combining all your favorite functions, it enables you to organize your documents, receipts, business cards, photos and much more all in one application.
Documents
Quickly find that recipe or meeting agenda that you stored last week with easy access tags.

Receipts
Keep track of your spending habits each month so that you can check back whenever you desire.

Business Cards
Contact whoever you need right away with the software organizing captured data according to company name and much more.

Photos
Create an original album and share important memories with your family and friends.

*ScanSnap Home is compatible with ScanSnap iX1500, iX500, iX100, S1300i, S1100i and SV600.
*For existing customer uising previous models, ScanSnap Manager is also available.
Features
One stop for all ScanSnap productivity
With ScanSnap Home, repetitive tasks such as sorting, saving, organizing and connecting scanned data with other applications are made as comfortable as possible. The more you use ScanSnap Home, the more it understands your preferences, and the better assistant it will be.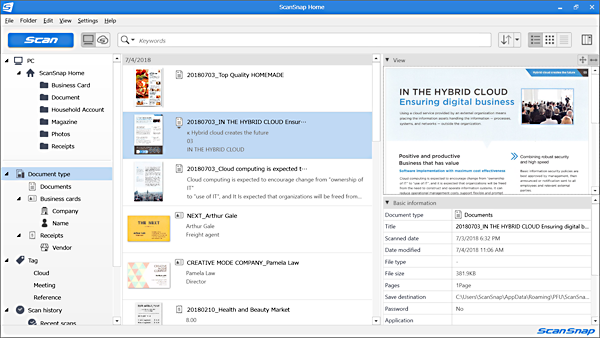 Scan large volumes with ease
You can scan large volumes of various types of documents from color photos to double-sided landscape documents with a host of intelligent automatic image processing functions, such as Automatic Color Detection, Automatic Size Detection, Automatic Rotation, De-skew and Blank Page Removal. Together, these features enable you to scan confidently without adjusting settings.

Spend less time on naming files
ScanSnap Home uses the text, such as shop and company names, found on your scanned documents to recommend file names. Not only does accuracy of information extraction increase the more you scan, but edits made to file names are learned for later naming suggestions.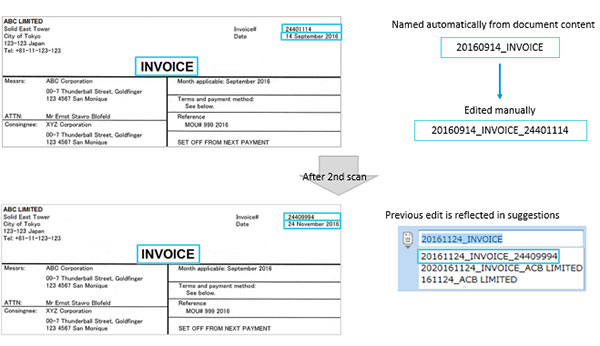 Spend less time on correcting files
Corrections made to company names attributed to scanned business cards, for instance, are reflected on successive scans with the same attributed company, allowing you to bypass the hassle of repetitive post-scan operations.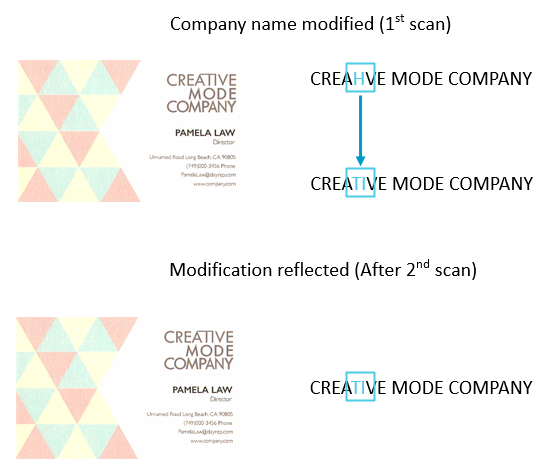 Spend less time on finding files
Scanned data is automatically recognized and grouped into four categories: documents, receipts, business cards and photos. No need to be concerned about spending time on sorting data by yourself.
The software helps you quickly search through large volumes of data with keyword search. Recognition of information in both PDF and JPEG formats as well as creation of folders and tags enables you to find information you need easier than before.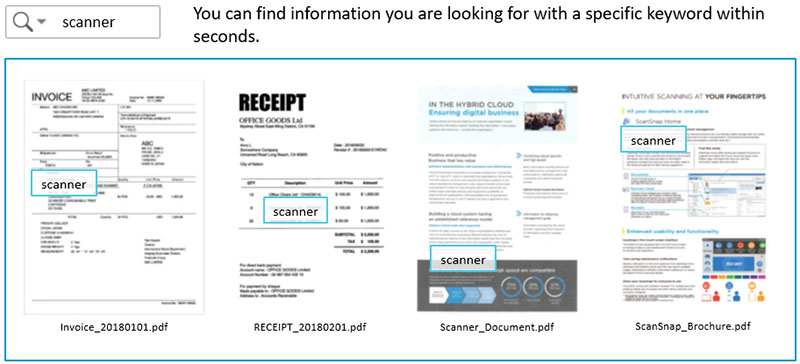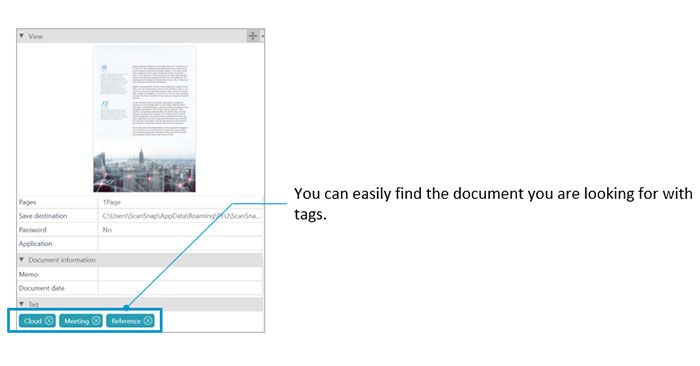 Optimized workflow for your usage with profile icons
Since you can create a profile of frequently used preferences on the ScanSnap Home, scanning process can be done just by choosing a profile and clicking "Scan" button.
In addition, with "Quick Menu" profile, you can choose destination and operation after scanning.
The ScanSnap Home provides optimized scanning workflow depending on your preferences.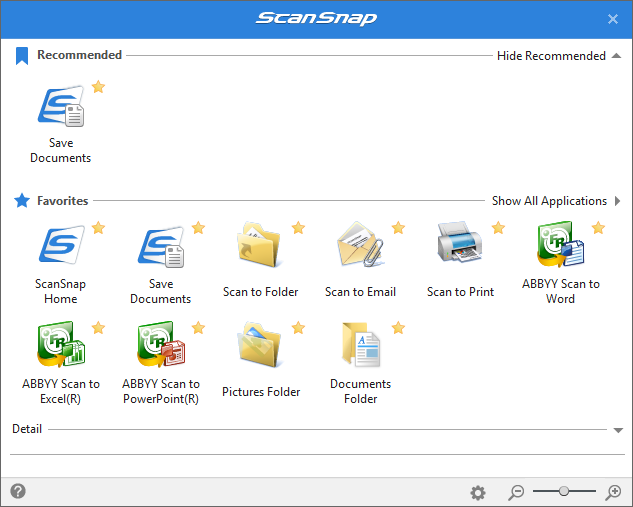 Mix and match your devices and scanners
Use your ScanSnap scanners on up to 5 devices by creating your own ScanSnap account*1, 2. Whether you are in the office or at home, you can choose your most suitable device for the situation, all using ScanSnap Home. Manage data scanned using the iX1500 with your desktop in the office as well as the iX100 with your laptop at home, for instance, all on ScanSnap Home.
*1 For countries where this service is available, please visit here.
*2 For instructions on creating an account, please visit here.
Specifications
System Requirements
Please refer to the specifications of each ScanSnap model.
Document / Business Card (Supported Languages)
| | |
| --- | --- |
| Document | English, German, French, Italian, Spanish, Portuguese, Russian, Simplified Chinese, Traditional Chinese, Korean, Japanese, Swedish, Norwegian, Finnish, Turkish, Dutch, Danish, Greek, Hungarian, Polish, Czech, Romanian, Arabic, Vietnamese, Thai, Indonesian |
| Business Card | English, German, French, Italian, Spanish, Portuguese, Russian, Simplified Chinese, Traditional Chinese, Korean, Japanese |
Receipt (Supported Countries / Languages / Currencies)
Country
Language
Currency
USA
English
USD
Canada
English
CAD
French
UK
English
GBP
Germay
German
EUR
France
French
Italy
Italian
Sapin
Spanish
Portugal
Portuguese
Russia
Russian
RUB
Austraria
English
AUD
China
Simplified Chinese
CNY
Taiwan
Traditional Chinese
TWD
South Korea
Korean
KRW
Singapore
English
SGD
Japan
Japanese
JPY
*Data transfer from conventional software can be done with the following software.
Windows: ScanSnap Organizer V4.1 or later, CardMinder V4 or 5, and ScanSnap Receipt V1.
Mac: ScanSnap Organizer V1.1 or later, CardMinder V1 or 5, and ScanSnap Receipt V1.
Tips & Tricks
Organize easier, integrate better
ScanSnap Home is a powerful document management system assisting easy document viewing, editing, and searching. Find the information you need using keyword search and organize scans according to document type and tags.
After scanning, simply drag and drop to insert documents into Word, PowerPoint and email.
Additional Features
You can still save to preferred file destinations. If for security reasons, you cannot save files onto your desktop, you can save files without saving to ScanSnap Home.
Text re-recognition without rescanning
The software "reads" data on business cards and receipts so that you can directly utilize text on your scanned documents. Start composing emails from business cards and export financial data on your receipts as CSV files.

Even if the software fails to read the proper text area the first time around, fixing is simple since you can re-run OCR by selecting the area you would like to read again.




Flexible access to Cloud
Use scanning profiles to save to Dropbox, Evernote, Google Drive, OneDrive even when scanning from scanners connected over USB.

If scanning from devices supporting ScanSnap Cloud*1, *2, enabling complete PC-less scanning to your favorite cloud services.

In addition, iX1500 makes this even easier since saving to cloud is completed with a single push of the cloud profile shortcuts on the touch screen. Connect to your favorite cloud and get the most productivity out of your scanner.

*1 Devices supporting ScanSnap Cloud: iX1500, iX500, iX100
*2 For countries where this service is available, please visit here.




Easy profile editing from task/menu bar
Add new scanning profiles or edit existing profile settings from the icon displayed in the task tray (Win) and menu bar (Mac).

If you are using models without touch panel, you can select the profile to use from the ScanSnap Home icon on the task tray and menu bar so that you can switch to your favorite scan setting easily and start scanning quickly.

*Displayed screens may vary depending on your environment.
Temporary switch settings quickly from Scan window / Touch panel
Customized scanning profiles will not always address immediate scanning needs and you may want to make minor adjustments from time to time. In times like this, make temporary setting adjustments from the 4 small buttons next to the big Scan button. These settings will only apply for a single batch so that there is no need to worry about these minor changes impacting future scans.

What's more, with iX1500 equipped with its big touch screen, you can temporarily switch to Manual Feed mode by pressing the Scan button for 3 seconds. Ability to quickly switch between scanning mode enables flexible scanning of mixed batches.

*With latest version of the ScanSnap Home software and firmware.
We are committed to make your migration process stress-free

Data from previous software like ScanSnap Manager, ScanSnap Organizer, and CardMinder are migrated for total use in ScanSnap Home.
Since ScanSnap Manager settings are also exportable, there is no need to worry about losing anything while migrating between platforms.

*With latest version of the ScanSnap Home software and firmware.
Fujitsu Australia acknowledges all Aboriginal and Torres Strait Islander Traditional Custodians of Country and recognises their continuing connection to land, sea, culture, and community. We pay our respects to Elders past and present.