Overview
ScanSnap Manager can save scanned data to any folder on the PC with One Push, and use various automatic image processing functions.
You can save scanned data as JPEG, PDF and Searchable PDF file with the familiar experience of previous ScanSnap models.
For the new customer of ScanSnap, the latest software "ScanSnap Home" is recommended. ScanSnap Home is an all-in-one software to easily manage, edit and utilize various types of scanned data from documents, receipts, business cards, photos and much more in addition to driver.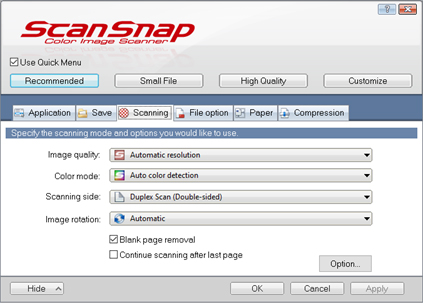 Features
Simple software with various automatic image processing functions
ScanSnap Manager is a simple driver software that saves scanned data on your PC with minimal effort.
ScanSnap Manager settings
Application : Setting of application that you would like to use after scanning
Save : Settings of save destination and file name
Scanning : Setting of image quality and scanning side
File option : Settings of file format (JPEG, PDF, Searchable PDF) and OCR language
Paper : Settings of document size
Compression : Settings of compression rate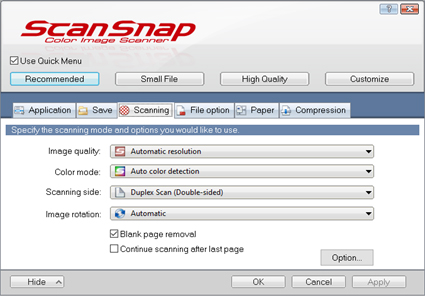 Scan large volumes with ease
You can scan large volumes of various types of documents from color photos to double-sided landscape documents with a host of intelligent automatic image processing functions, such as Automatic Color Detection, Automatic Size Detection, Automatic Rotation, De-skew and Blank Page Removal. Together, these features enable you to scan confidently without adjusting settings.

Quick Menu - Quickly select what to do after scanning
Quick Menu allows users to easily select a destination after scanning. By using the Quick Menu, list of icons (such as Scan to folder, Scan to E-mail, etc.) is displayed, and can choose what to do after scanning quickly.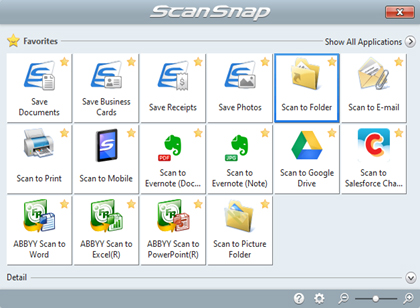 You can choose the latest software "ScanSnap Home" as the destination, so that you can use the familiar ScanSnap Manager for scanning, and combine ScanSnap Home* for manage your scanned data.
*Use in conjunction with ScanSnap Home or iX1500 requires ScanSnap Manager V7 and later.
Specifications
Operating System
Windows
Windows 10, Windows 8.1, Windows 7
macOS
macOS 10.12 or later
Compatible Scanner
iX1500 (1), iX500, S1300i, iX100, S1100i, SV600, S1500 (2), S1500M (2), S1300 (2), S1100 (2)
1. Update to latest ScanSnap iX1500 firmware version is required.
2. Discontinued products and cannot be repaired.
Download and Updates
Fujitsu Australia acknowledges all Aboriginal and Torres Strait Islander Traditional Custodians of Country and recognises their continuing connection to land, sea, culture, and community. We pay our respects to Elders past and present.