cardminder
Overview
ScanSnap Organizer makes it easier than ever to view, edit, and manage your PDF and JPEG files scanned with ScanSnap. It displays documents as thumbnails that you can preview in catalogue form for efficiency when searching. With a simple user interface, it allows you to create and sort folders without opening them, and flip through file pages quickly to save time. The conversion tool enables you to fully edit PDF files in Word and Excel, and with the ability to attach files to email or share drives, you can access and use your paperwork in a digital environment for increased productivity.
ScanSnap Organizer allows you to stay connected to all of your documents using ScanSnap Sync*, an embedded function that will synchronize files for access on your mobile devices. ScanSnap Sync automatically connects documents scanned through ScanSnap Organizer and the iOS or Android app ScanSnap Connect Application, so you can manage your information anytime, anywhere.
*ScanSnap Sync utilizes third party cloud services Google Drive, OneDrive and Dropbox to synchronize data between Connect Application and Organizer. Initial account registration for cloud service is required.
Features
Manage scanned data efficiently
Take control over scanned files with ScanSnap Organizer. ScanSnap Organizer Viewer has a variety of functions for scanned files; you can view and edit the files, rotate, delete, move, insert, de-skew, crop, and merge pages, and add keywords to the files. You do not have to open the view screen to confirm whether the file is the one you are searching for since the other pages are displayed as thumbnails.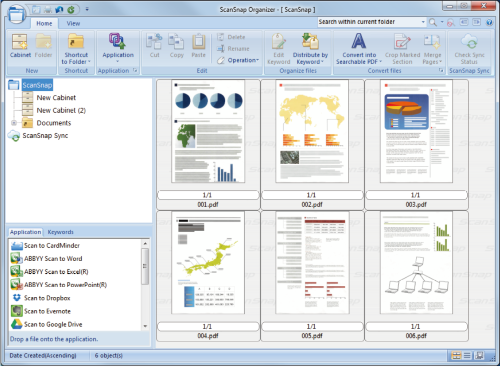 Quickly access information you need with the search function
Quickly access files by converting paper documents into searchable PDF documents. ScanSnap Organizer performs a conversion while monitoring the capacity of CPU memory so the conversion takes less time to complete and the other processes on your computer are not disturbed. In addition to searching for keywords in text, you can even search pictures and illustrations once you set keywords to the scanned images.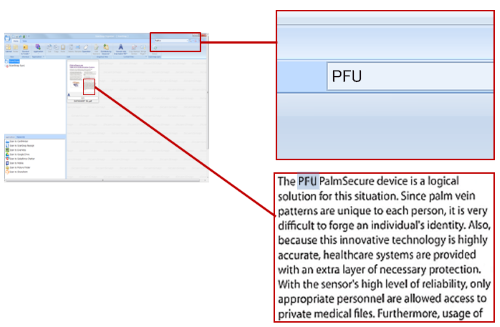 ScanSnap Sync
Thanks to the ScanSnap Sync function, by using cloud services (to perform document synchronizations), the same document can be viewed from either a mobile device using ScanSnap Connect Application or a computer using ScanSnap Organizer regardless of where you are or what device you are using. With the ScanSnap Sync function, you can now edit documents scanned from mobile devices by using ScanSnap Organizer functions such as OCR or paper rotation.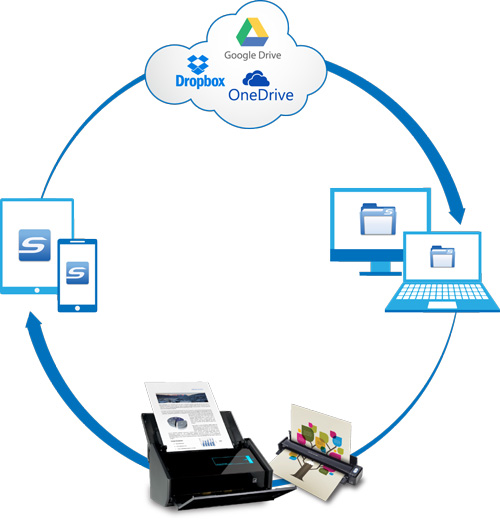 *Supported cloud services are Dropbox, Google Drive and Microsoft OneDrive.
Quickly apply the scanned data to practical situations
You can easily send scanned images to various applications (such as Dropbox, Evernote, Google Docs, Salesforce Chatter, e-mail, and printers) using the "Scan to" function.
You can convert scanned images to Word, Excel, and PowerPoint formats as well. With ScanSnap Organizer, you can quickly apply the scanned data to practical situations.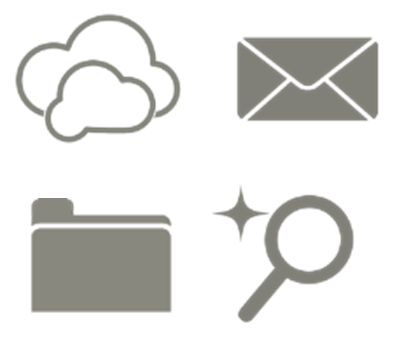 Specifications
System Requirements
Please refer to the specifications pages of each ScanSnap model.
ScanSnap Sync System Requirements
Supported scanners
ScanSnap iX500, iX100, S1300i, S1100i, SV600
Software requirements
Windows®
ScanSnap Manager V6.5L30 or later
ScanSnap Organizer V5.6L10 or later
Mac*
ScanSnap Manager V6.3L40 or later
ScanSnap Organizer V1.2L10 or later
iOS
ScanSnap Connect Application 2.5.0 or later
Android™
ScanSnap Connect Application 2.5.0 or later
Any one of the followings cloud services;
(Note)
The following information is based on the investigation by PFU Limited on each service provider's service edition and service area (as of October, 2015). For details or updates, please refer to the information provided by each service provider.
Dropbox
(Service provider) Dropbox, Inc., Dropbox Ireland
(Edition) Dropbox Basic / Dropbox Plus / Dropbox Professional / Dropbox for Business / Dropbox for Education
(Service area) Worldwide, except China as of October 16, 2015
Google Drive™
(Service provider) Google
(Edition) Google Drive™ / Google Drive™ for work
(Service area) Worldwide, except China as of October 16, 2015
OneDrive®
(Service provider) Microsoft
(Edition) OneDrive® (Excluding OneDrive® for Business)
(Service area) Worldwide
*ScanSnap Manager, ScanSnap Organizer, CardMinder, and ScanSnap Receipt are not available on the macOS v.10.15.
[Notes]
There might be other limitations based on cloud services and contract type. The following limitations will be applied when capacity of the cloud service or number of files exceed the limit.
Maximum number of files
When using ScanSnap Connect Application (iOS or Android OS), the file limit is set at 10,000 files, and so lists which have more than 10,000 files cannot be displayed. In addition, if the number of files in a folder increases, the performance to display a list may be deteriorated and become slow. When the number of files is becoming large, it is recommended to create another folder in ScanSnap Organizer (Windows® or macOS), and limit the number of files stored in a folder to 500 files.
Maximum file size for each transaction
Limitations based on OS (Desktop app)


ScanSnap Organizer (Windows® or macOS)
Maximum file size for each transaction depends on desktop apps of cloud services. ScanSnap Organizer has no limitation on the file size for downloads or uploads.
ScanSnap Connect Application (iOS or Android OS)
Maximum file size for both upload/download is 2 GB. However, when using OneDrive®, the size for upload is limited to 100 MB.


*The maximum file sizes shown above are applicable only when available space of cloud service is equal to or greater than file size.
Target file type
PDF / JPEG
Available storage space required on the cloud service side
Same as the file size of the scanned data targeted for sync.
Expected line speed/bandwidth
Recommended environment: Broadband internet connection (1)
In the case of wireless connection, stable line of IEEE 802.11n (2.4GHz/5GHz) or later.
Others
The reserved words in Windows® such as nul, lpt1, com1, aux, prn cannot be used as folder name.
Put a check on "Synchronize On Wi-Fi Only" in "ScanSnap Sync Setting" (default setting is "on") if you would like to sync only while connecting via broadband connection (Wi-Fi Connection). It prevents unexpected data transmission with the other connection (such as 3G and 4G).
For more requirements click here to choose your scanner model.
Fujitsu Australia acknowledges all Aboriginal and Torres Strait Islander Traditional Custodians of Country and recognises their continuing connection to land, sea, culture, and community. We pay our respects to Elders past and present.